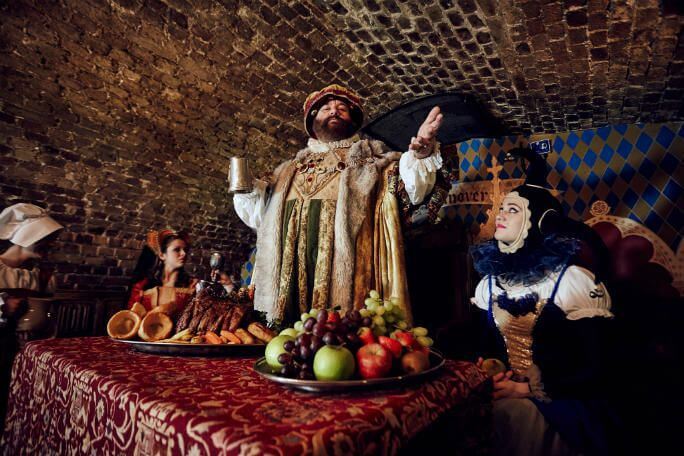 MEDIEVAL BANQUET
21st Century Immersive Dinner Theatre Redefined.
Join King Henry VIII at his royal banquet and be part of 1,000 years' history at London's extraordinary dinner-theatre experience. Go back in time to the days of kings, queens, knights, acrobats and jesters at this fascinating venue. Shout for your Wench or dance with a unicorn at a fantasy adventure set at your table.
Pretend to be a knight, pretend to be a wench, but don't pretend you are not hungry. We dish out a real 'COOKED' banquet made to fill up a real big sweaty knight who just trekked through mile after mile returning from a swampy battlefield.
Centrally located in the beautiful and historic St Katharine Docks, alongside the river Thames, The Medieval Banquet is just a two-minute walk from Tower Bridge and the Tower of London.
INCLUSIONS
As a royal guest they will be led down to the great Hall to mingle with other guests as well as medieval and mystical characters and be treated to a 4 course banquet with drinks and a fantastic array of entertainment which includes professionally trained fighting knights, acrobats, musicians, singers, dancers and court jesters.
The package includes:
– 4 course meal
– Ale and wine throughout the meal
– 2h live medieval entertainment (ie. acrobatic acts, live singing, dancing, juggling, sword fighting, etc)
– Disco party until midnight (until 21.30 on Sundays)
FROM
£30.00
https://ticketing.thegoldenticketclub.co.uk/attractions/medieval-banquet
Location
St Katharine Docks Cafe
C2 Ivory House St Katharine Docks, E Smithfield, St Katharine's & Wapping, London E1W 1AT
GET 241 OR UP TO 60% OFF TICKETS, ATTRACTIONS AND FOOD