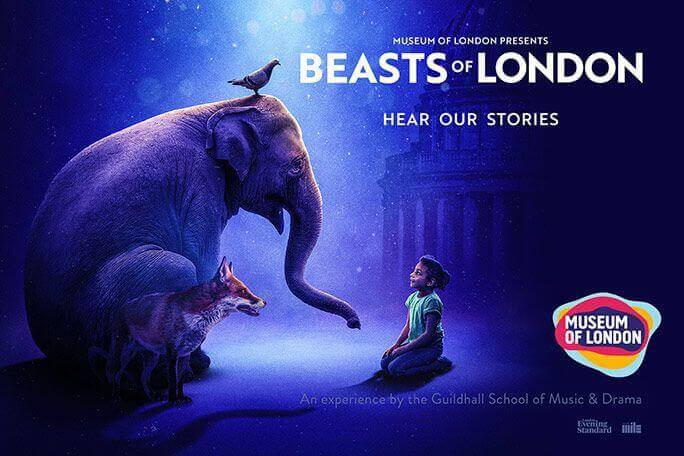 BEASTS OF LONDON
It's hard to imagine a time when animals roamed freely in the city we know today, but Londoners once lived side-by-side with all kinds of animals. From exotic beasts imported from all over the world to the humble pigeon, from the majestic lion to pesky fleas, Beasts of London will present a time when a multitude of creatures inhabited the city.
Begin your journey before London was created and be guided through to the present day by the animals themselves. Hear the story of the capital from their perspective as they highlight iconic moments in its history, such as the arrival of the Romans and the Plague. Inspired by objects in the Museum of London's collection and working with the Guildhall School of Music & Drama, Beasts of London will be a fully interactive digital installation using video projection mapping.
Brian Blessed will voice the Bacterium in Beasts of London. This bacterium was fundamental in spreading the plague across London and caused outbreaks such as the Black Death and the Great Plague of the 17th century. Pam Ferris, known for her roles as Miss Trunchbull in Matilda and Aunt Marge in Harry Potter and the Prisoner of Azkaban will voice the Eagle who was around during the Roman rule and creation of Londinium. Nish Kumar, will play Thomas the horse, who represents the military horses of London. Stephen Mangan, who has voiced Postman Pat in Postman Pat: The Moviewill voice Governatore, the steed to King Henry VIII. King of the Jungle Joe Pasquale will play a mouse opposite Pam Ferris's eagle, who was around Roman London. Television and radio presenter, Angelica Bell, who has just launched her first children's cookbook 'Fantastic Eats' as well as being known for her appearances on The One Show will voice a rat who was used for entertainment during the times of animal baiting.
"An enchanting exhibition that children will love" – Londonist
"The imagination and innovation with which this exhibition has been put together is second to none"– Daily Telegraph
"An engaging way into history for young children" – Evening Standard
"At times emotional, at times gruesome, and always riveting" – Culture Whisper
GET 241 OR UP TO 60% OFF TICKETS, ATTRACTIONS AND FOOD